About the Founder and Director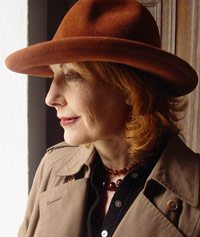 Tristine Rainer has had dual careers as a pioneer and expert in the fields of contemporary diary and memoir writing and as an executive, producer and writer of television movies.
Early academic work
In 1972 when Rainer was a grad student at UCLA she co-founded the university's Women's Studies program and taught the first course offered on women writers, funded by Curriculum and Educational Development. In 1974 she taught as a Lecturer at Indiana University in Bloomington, and in 1975 she joined the faculty of International College in Los Angeles, where she co-taught a writing class with her mentor Anaïs Nin.
Diary writing
In 1978 Tristine Rainer's book The New Diary: How to Use a Journal for Self-guidance and Expanded Creativity (Tarcher/Penguin-Random, 1978, updated 2004) was published with a preface by Anaïs Nin. It popularized contemporary journal writing and created its lexicon. Never out of print in the States, The New Diary has been translated into many European languages, and published in Korea (2011) and China (2012).
Television and Film
Rainer's first job in the television business was as a Development Executive at Dan Curtis Productions in 1979. After several other development jobs, in 1984 she became President of Grand Central Films, a co-venture for international co-productions between Thames Television and D.L.Taffner. As an independent producer she nurtured projects from conception to broadcast under her own banner: Games Mother Never Taught You, producer (CBS, Loretta Swit, Sam Waterston), Having it All, producer (ABC, Dyan Cannon) Secrets of a Married Man, executive producer (NBC, William Shatner, Cybill Sheppard) and Forbidden Nights, executive producer, screenplay writer (CBS, Melissa Gilbert). Her films won awards for their non-stereotypical portrayals of women and minorities.
Memoir writing
Having gained experiential knowledge in shaping true-life stories for a wide audience, Rainer wrote Your Life as Story: Discovering the New Autobiography and Writing Memoir as Literature (1997, Tarcher/ Penguin-Random, 1997) to teach others how to see and share the universals of story structure within their unique life events. She returned to teaching and lecturing, creating the first autobiographic writing course for UCLA Extension (1996), the first autobiographic film course for University of Hawaii (2003), and the first memoir class in the USC Masters of Professional Writing Program, where for 11 years she was a faculty member until 2010. Rainer has coached many authors to publication, including New York Times bestseller and MacArthur genius award winner Elyn Saks, The Center Cannot Hold (Hyperion, 2007).
Upcoming Book
As founder and Director of the Center for Autobiographic Studies, a 501c3 since 1997, Rainer promotes the creation and preservation of autobiographic works, teaches, lectures and consults. Her own memoir about her relationship with her mentor Anaïs Nin, Apprenticed to Venus, will be published July, 2017 by Arcade Books.
A partial list of published memoirs on which Tristine Rainer provided editorial consultation:
The Center Cannot Hold, my journey through madness, by Elyn R. Saks. Hyperion, NY 2007
Not A Happy Camper by Mindy Schneider, Grove Press, NY 2007
Except for One Little Problem, memoir of a Life in Hiding, by Joan Denson. Barricade, 2001
Car Camping by Mark Sundeen, Harper Collins Pub NY, 2000
Apprentice to the Dawn a spiritual memoir, by James C. Ingebretsen, The Philosophical Research society, 2003
Strange As It Seems: The Impossible Life of Gordon Zahler by Chip Jacobs, Rare Bird Books, CA 2016
In the Wings, a Memoir by Diana Douglas, Barricade Books,1999
The Vulture's Wisdom, Larry Coralli as told to Jan Lawhon Dean & Franklin, 2002
The Last Pachuco by Ray Elizondo, Autumn Leaf press 2007
Siren's Feast, an Edible Odyssey by Nancy Mehagian, Cielo press,2008
For a Dancer, the memoir by Emma Stephens, Saint Columba Press, 2011
A Hidden Madness by James T.R. Jones, 2011.
Bobo's Daughter by Bonnie Ann Barnett, Morris publishing, 2001
Stolen Hours (breaking free from Secret Addictions) by John Howard Prin, Syren Book Company, 2004
Imagining Liza, memoir of a fan by Beverly Raffensperger Fauvre Hawthorne Publishing Westfield, IN 2000
Becoming Alice, a memoir, by Alice Rene iUniverse, Lincoln NE 2006
Shades of Justice by Paul Krehbiel, Autumn Leaf Press, 2008
The Last Mad Lover, by Howard Ross, Publish America, 2006
Hairy Arms and Unibrows, by Aida Radfar, self-published, 2017
Too Smart to be a Girl, by Dr. Nancy Bennett, self-published, 2017
Split at the Root: A Memoir of Love and Lost Identity, by Catana Tully, self-published, 2012  (Amazon Top 100 in Family Relationships > Parent & Adult Child)
Apprenticed to Venus


(Coming July 2017)
Tristine Rainer's own memoir about her relationship with her mentor Anaïs Nin, Apprenticed to Venus, will be published July, 2017 by Arcade Books.
An intimate look at the intricacies―and risks―of the female mentor-protégé relationship, Apprenticed to Venus stories her deep friendship, for good or ill, with a pivotal historical figure.
"…a spicy and saucy hybrid of memoir and novel." KIRKUS
"Rainer blends memoir and imagination in this engaging examination of her relationship with author Anaïs Nin . . . a fascinating personal journey."  PUBLISHER'S WEEKLY
The New Diary
Brings the Journal into the Digital Age with a New Preface, Examples and Exercises.
Over 200,000 copies sold.
The New Diary: How to Use a Journal for Self-guidance and Expanded Creativity
. 1979, 2004 New Edition.
"Perceptive and readable from start to finish."  PUBLISHER'S WEEKLY
"…extensively researched, useful…all you've wanted to know…" LA TIMES
"…a perceptive and revolutionary work that will share the immense wealth of new knowledge…with all those who are seeking inner harmony and creative freedom." Anais Nin
Your Life as Story: Writing the New Autobiography
LA Times Bestseller List
Your Life as Story: Discovering the New Autobiography and Writing Memoir as Literature
. 1997, trade paper '98
"…in the author's tips on how to define one's personal mythology, together with tools offered for creating the actual structure of one's story…a great case is made for the importance of pursuing the threads of a life…" BOOKLIST, March '97
"Rainer is an excellent guide." PUBLISHERS WEEKLY, Jan. 27, '97
As reviewed by Cultural Information Service:  "Tristine Rainer presents an exhilarating overview of the latest literary trend…The  best book available on the subject."